Giant Spiders
To quote T.P
Yes, of course I've heard what the superstitious locals say: "Stay out of the mountains! There's no shelter on those harsh peaks, and every last combe and glen is infested with killer spiders!". They say there's no way to safely cross that mountain range - anyone trying to rest high up on the peaks will die of exposure, lashed by cruel icy winds. Better that, though, than to risk seeking shelter in the forested vales.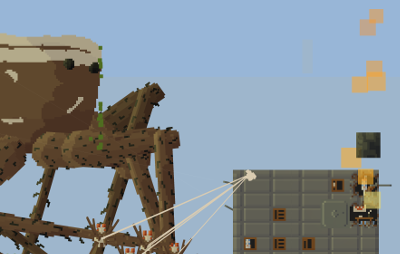 The small ones are worse than the big ones. They swarmed the HMS Eagle, and within minutes, it fell out of the sky screaming. Keep your distance. Use bombs. Use fire. Or simply leave them be.
The Crawling Death, they call it. Great glossy black eight-legged fiends, some small enough to creep between the rings of your maille, some large as a splayed hand and quick as a cat, and some - so they say - the size of dogs. Or swine. Or cart-horses. The tales have been exaggerated in the telling, of course, since hardly anyone dares venture far into the gullies and ravines that lace between the majestic peaks (most certainly not at night, when the Crawling Death make their appearance, silent as a shadow).
And yet, in spite of all this, I'm planning an expedition into the mountains. It's true, I haven't the equipment with me to safely shelter from the bitter cold above the tree-line, out of the reach of skittering legs and poison-slick fangs. I have no blessing from the gods, and no miracle of alchemy intended to keep the Crawling Death at bay. What I do have, though, is a map.