You can now view your empire's current bonuses in the Empire window.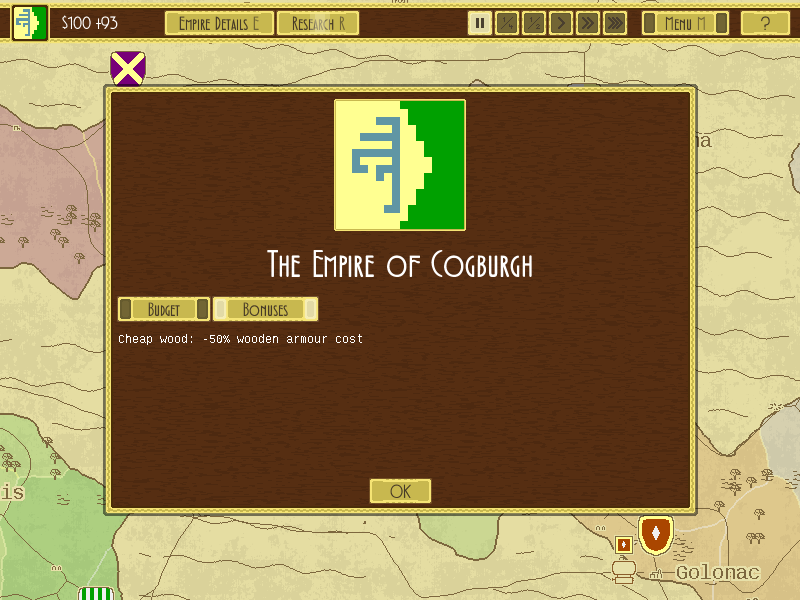 Weapon accuracy of buildings doubled.
AI should no longer constantly re-conquer war-torn towns and cities.
Indicator for incoming enemy fleets.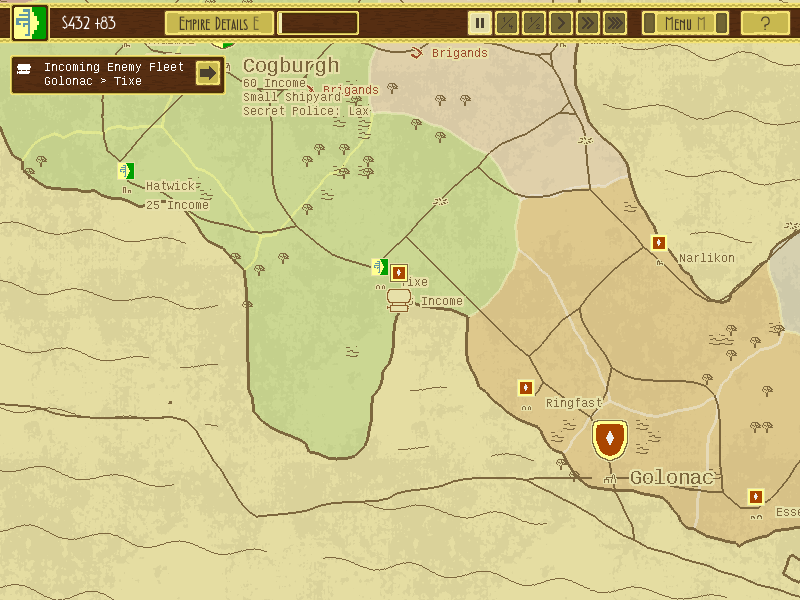 Slower conquest speed by default and options for half and quarter speed.
Cleaned up landscape editor panel.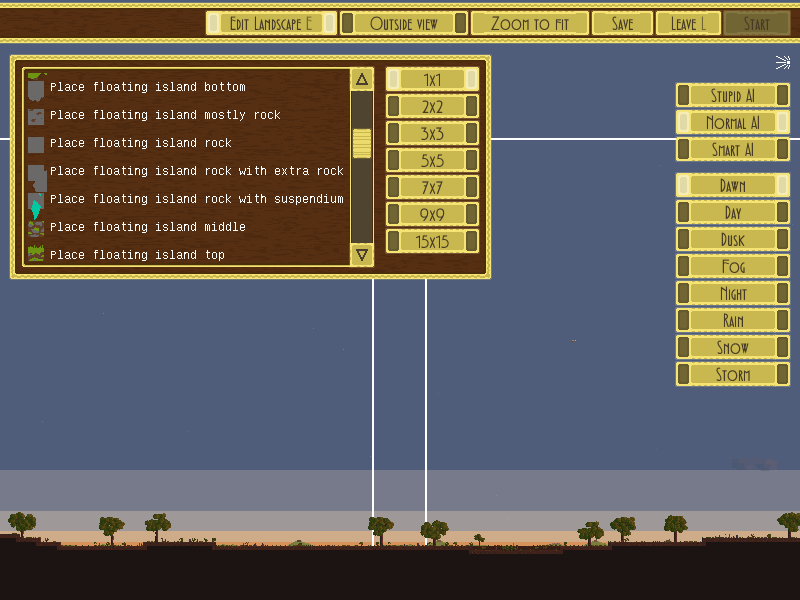 Rapid-firing and melee weapons like gatling guns, flamethrowers and buzzsaws no longer change reload and accuracy based on fire mode.
The AI no longer surrenders in pivotal battles.
No starting ship for the player on higher difficulties.
Hid (broken) editor buttons in conquest spectate mode.
Boarders-only ships are now counted as still in-combat as long as there's boarders alive and able to perform their duties.
Dust tank endcaps now gain increased lift from the Suspendium Specialists bonus.
Crow's Nest, Telescope, and Targeting Computer accuracy bonuses work again.
Rivets and masts courtesy of Faffywaffy on Discord.
Balance
In summary:
Armour is better
Acid spitters do a lot more damage
Tracks and legs are more expensive
Keels are more expensive but more effective
Massive weapons are cheaper or better
Small weapons have decreased accuracy against boarders and planes
In detail:
Wood Wall
Increased HP from 18 to 24
Increaded piercing damage absorb from 1 to 2
Wood Armour
Decreased weight from 4 to 3
Increased blast damage absorb from 1 to 2
Increased piercing damage absorb from 3 to 4
Reinforced Wood Armour
Decreased weight from 30 to 18
Increased blast damage absorb from 3 to 4
Increased piercing damage absorb from 6 to 9
Steel Armour
Decreased weight from 20 to 16
Increased blast damage absorb from 12 to 16
Heavy Steel Armour
Decreased cost from 16 to 14
Decreased weight from 50 to 30
Stone Wall
Decreased cost from 5 to 4
Massive stone Wall
Decreased cost from 10 to 8
Dragonhide
Decreased cost from 20 to 15
Shell Armour
Decreased cost from 9 to 7
Increased lift from 22 to 25
Increased blast damage absorb from 2 to 4
Increased piercing damage absorb from 2 to 4
Aerial Hussar
Increased top speed from 150 km/h to 250 km/h
Reduced delay between launches from 400 ms to 100 ms
Increased piercing damage from 17 to 24
Increased reload time from 1.7 seconds to 2 seconds
Acid Spitter
Increased cost from 100 to 160
Increased reload time from 2 seconds to 3 seconds
More than doubled accuracy
Increased direct damage from 7 to 30
Decreased max range from 114 m to 85 m
Big Tracks
Decreased HP from 1200 to 800
Increased cost from 200 to 400
Increased coal reload interval from 8 to 12 seconds
Bomb Bay
Increased cost from 20 to 30
Small Bow
Decreased weight from 100 to 40
Decreased HP bonus from 150 to 110
Medium Bow
Decreased weight from 200 to 70
Increased cost from 80 to 90
Decreased ship HP bonus from 300 to 250
Large Bow
Decreased weight from 300 to 140
Increased cost from 140 to 200
Bridge
Increased cost from 15 to 40
Cannon
Increased reload time from 3 to 3.5 seconds
Increased piercing damage from 40 to 50
Deck Gun
Decreased HP from 60 to 50
Decreased weight from 60 to 50
Decreased cost from 80 to 50
Decreased reload time from 2.1 to 2 seconds
Decreased accuracy by 30%
Decorative Items
Generally reduced weight and cost
Dorsal Turret
Increased cost from 120 to 150
Decreased reload time from 4 seconds to 3 seconds
Decreased accuracy by 25%
Flak Cannon
Decreased cost from 120 to 100
Gatling Gun
Decreased accuracy vs troops and planes
Giant Flamethrower
Reduced cost from 800 to 500
Grand Keel
Increased HP from 3000 to 4000
Decreased weight from 4500 to 3000
Increased cost from 300 to 360
Decreased ship HP bonus from 7000 to 6400
Grapeshot Cannon
Introduced 100 m max range
Decreased piercing damage per shot from 12 to 10
Decreased accuracy vs troops and planes
Imperial Cannon
Increased accuracy by 25%
Large Keel
Decreased weight from 1400 to 900
Increased cost from 80 to 110
Incresed HP bonus from 1400 to 1750
Large Legs
Decreased HP from 1200 to 600
Increased weight from 1000 to 1200
Increased cost from 140 to 450
Increased propulsion from 1.4 to 4
Decreased coal reload interval from 6 seconds to 5 seconds
Large Suspendium Dust Tank
Increased HP from 350 to 480
Large Suspendium Dust Tank Endcap
Increased HP from 220 to 300
Massive Rockets
Decreased cost from 500 to 400
Increased blast splash radius from 8 m to 11 m
Medium Legs
Decreased HP from 400 to 300
Increased cost from 80 to 130
Increased propulsion from 0.38 to 1.1
Decreased coal reload interval from 15 seconds to 12 seconds
Musket
Decreased reload time from 2.3 to 1.5 seconds
Increased accuracy by 20%
Increased clip size from 12 to 16
Decreased accuracy vs troops and planes
Rifle
Increased cost from 15 to 20
Reduced clip size from 20 to 16
Decreased accuracy vs troops and planes
Saw Blade
Increased blast damage from 30 to 40
Small Keel
Increased cost from 30 to 50
Decreased weight from 750 to 400
Increased ship HP bonus from 400 to 700
Small Legs
Increased cost from 30 to 70
Increased propulsion from 0.3 to 0.4
Decreased coal reload interval from 30 seconds to 20 seconds
Small Tracks
Reduced HP from 400 to 300
Increased cost from 50 to 160
Increased coal relaod interval from 25 seconds to 30 seconds
Spider Legs
Decreased HP from 1200 to 800
Increased weight from 800 to 1500
Increased cost from 150 to 900
Decreased propulsion from 25 (!?) to 8
Decreased coal reload interval from 5 seconds to 4 seconds
Suspendium Cannon
Decreased reload time from 4 seconds to 3 seconds
Doubled accuracy
Suspendium Dust Tank
Increased HP from 120 to 150
Increased lift from 250 to 280
Suspendium Dust Tank Endcap
Increased HP from 75 to 100
Increased lift from 180 to 200
Telescope
Decreased cost from 200 to 120
Ventral Turret
Decreased weight from 150 to 140
Increased cost from 120 to 150
Decreased reload time from 4.5 to 3 seconds
Decreased accuracy by 25%
Vertical Sail
Increased HP from 80 to 120
Increased propulsion from 0.07 to 0.14
Same proportional increases for double and triple versions